Our Process
Snapshot of our Wealth Planning Process: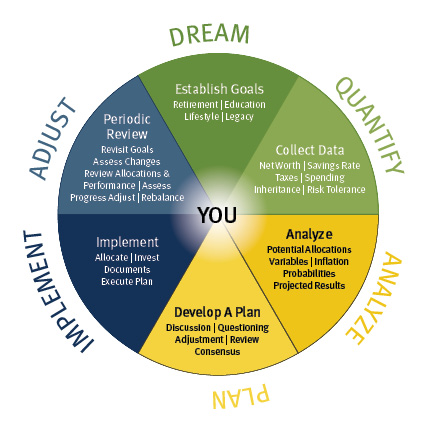 We Incorporate Risk Management Strategies Into Our Process
Every investment has risk – even cash! And since we can't predict the market, we believe it is essential to understand and watch the potential risks associated with your wealth management plan, including:
Market risk

Business risk

Interest rate risk

Credit risk

Liquidity risk

Governmental/political risk
In order for us to effectively mitigate these risks, we practice specific principles with your best interests in mind:
Diversification can help reduce the overall risk of your investment strategy.

Market timing is futile.

Rebalancing is an important tool for addressing market risk.

Disciplined investing can help prevent emotional decision-making.

High expenses are a key detractor from long-term wealth creation.
If you would like to know more about how we approach risk, click on the Our Philosophy tab.
Diversification (or asset allocation) does not ensure a profit or protect against loss. Rebalancing may have tax consequences, which you should discuss with your tax advisor.